Recommended Property Management Software
---

New Version 8.0!
Perfect for the smaller Owners or Managers of any Residential or Commercial Rental Property.

Friendly and easy to use, yet with powerful features. Includes free phone / email support.

100 Rental Units : $299.50 $269.95
Unlimited Version: $477.95 $429.95
The TENANT FILE Property Management Software makes it simple for you to keep track of rents and expenses. It has features that rival the most expensive software, yet it is low cost and easy to use. With this excellent tenant software, you can easily run Owner and Tenant Statements, pay Owners automatically and post rent automatically. Now your rental management can be accomplished in just a few hours per month - all at a low cost and with FREE 2 months of phone and free email technical support!
Residential Property
Commercial Property
Town Homes
Apartments
Condos
Office Parks
Mobile Home Parks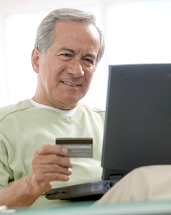 With over 15,000 users - the Tenant File is America's Favorite Property Management Software
It's easy and powerful!
Jeffrey Taylor , Founder of Mr. Landlord.com and Nations #1 Landlording Coach
"As I travel around the country speaking to property owners and managers, I hear the needs and frustrations those property managers face. The Tenant File is the software that I recommend to make their job easier. It is a solid and easy to use product with excellent support"

"I was one of the first users of the Tenant File program, and I always insisted that it remain simple yet powerful enough to handle my 300 homes and several Homeowner Associations. They never disappointed me, and constantly improved the product to be one of the most successful landlord software products on the market."
Manfred Kerschke, Realtor

Lindsey Rellot, Property Manager
"All of the people at the Tenant File office are great! I have enjoyed working with them. My business is better off now because I am able to spend more time making money and less time working on paperwork.

"Thank you for making a program that is user friendly. I looked at a lot of competing products, and decided that the uncertainty of a web based product was not for me, and the Tenant File offered everything I was looking for. It is easy to use, is very fast, and easy to make backups of my valuable data."
Virge Garrison, Property Manager

"I manage 10 apartments, and the Tenant File has been a great help is keeping organized. Now, when I need information, I just call up a Tenant, and the full payment history is right in front of me. No searching through complicated menu systems - just fast accurate data when I need it. Also, I can keep detailed property information right in the file, such as appliance repair dates, serial numbers, interior and exterior features and notes - LOTS of notes."
Andy Sharpton, Apartment Mgr.

"Buying Tenant File was the smartest software decision I've ever made. I was using another product that cost 5 times as much, plus the updates were very expensive, and the support was costly. Networking costs were extra. With the Tenant File, I've got a better program and it doesn't take more than 1 hour to train new users. Thank you W G Software, for an excellent product!
David Watasek, Owner